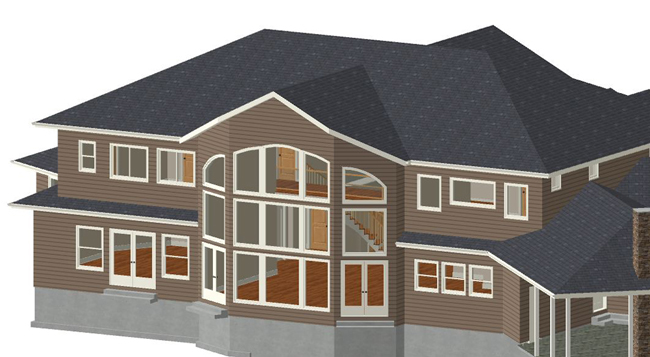 Ortho Before
This new home plan had a great room with 13 windows and two sets of doors on the view–which looked right at Mt. Rainier.
The kitchen had three 3′-wide windows, looking at the same amazing views.
The master bedroom above the kitchen had a 42″-high window sill in the center! The owners would not be able to see out the window.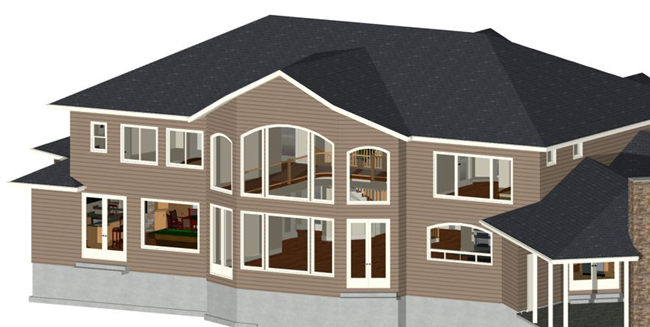 Ortho Before, Front View
This new home plan had a great room with vaulted ceilings–which looked up at cliff on the side of Mt. Si, that soared up, up, and up.
The flattening effect of the elevations masked the fact that the porch roof projected right out into the windows!
Digital modeling revealed this AND showed that the valley between the two left peaks did not reconcile. In other words, the roof could not be built! Imagine ordering all your trusses and then finding a whole section could not be made to work.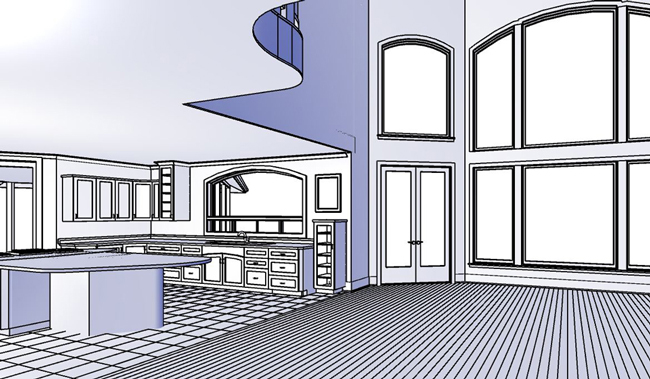 Digital Dollhouses
The advantage of building 3D models of your home plans is obvious!
We can show you the exterior and interior of your home from any spot you want to stand–or float above it!
Here's a view of the interior, looking out the windows and into the kitchen. We can turn on the outside scene or leave it off–whatever helps you understand your plan best.
All we need is PDF plans of your home or the DWG files. From there, we can build the model and then work with you to fine-tune your home.

Ortho After
The exterior is more balanced. There are five fewer windows chopping up the views from the great room.
Note that the kitchen has a 9′-wide picture window with ventilators below.
The master bedroom can now truly connect to the views.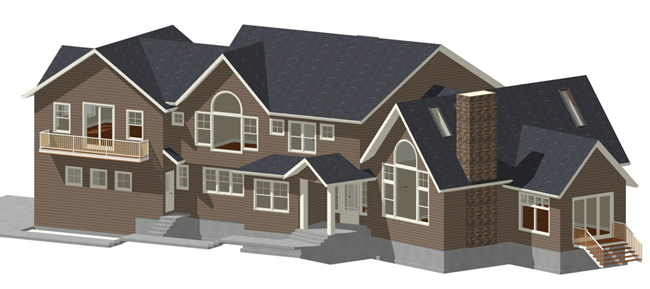 Ortho After, Full View
You will note on this 3D model how much better this works. The owner also noticed that the door to the garage lacked a protective roof above it and asked that we introduce that into the model.

Ortho After, Front View
The first solution was to angle the porch off the face of the great room. To reconcile the valleys, we shifted the peak above the round-top window (the master bedroom) slightly.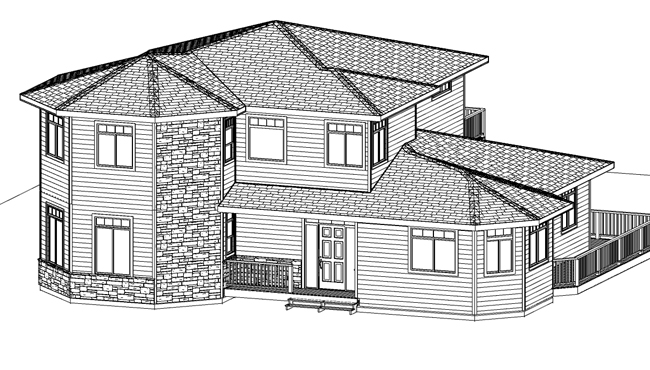 Whidbey Before
The front porch looked stuck on the front of the home. The massive stone wall imbalanced the presentation.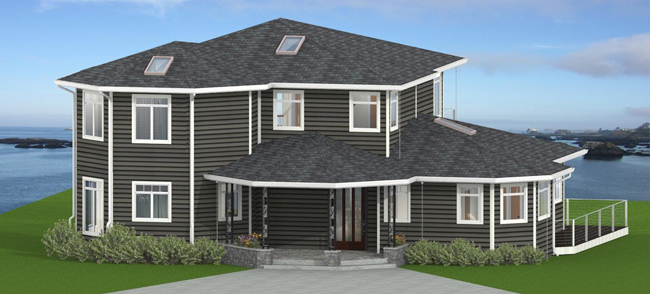 Whidbey After
The front of the home now greets you with an expansive front porch. Its' size connects the right wing to the taller main section. Stone is now limited to supporting the porch.